From Andrew Sullivan's latest essay:
This is the Face of a Tyrant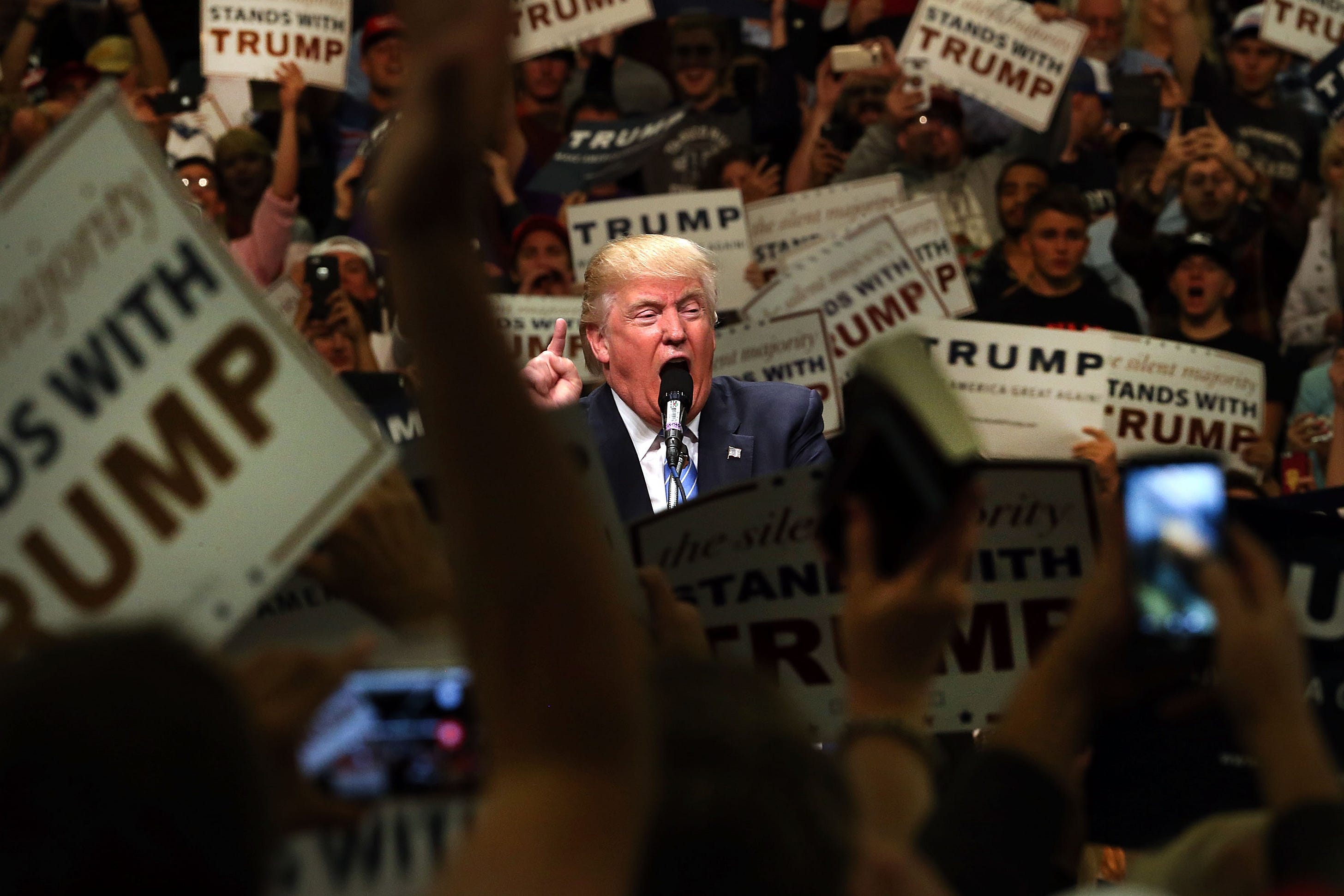 If there's one enduring theme about tyrants in myth, literature, and history it is that, for a long time, no one takes them seriously. And there are few better examples of this than Shakespeare's fictional Richard III. He's a preposterous figure in many ways, an unsightly hunchback, far down the line of royal accession, socially outcast, riven with resentment, utterly dismissible — until he serially dismisses and/or murders everyone between him and the throne. What makes the play so riveting and often darkly funny is the sheer unlikelihood of the plot, the previously inconceivable ascent to the Crown of this indelibly absurd figure, as Stephen Greenblatt recently explored in his brilliant monograph, "Tyrant."
I'll never forget watching a performance by Antony Sher of Richard decades ago — playing him as a spider, instinctually scuttling on two legs and two black canes, to trap, murder, and ingest his foes. The role is, of course, a fictional portrait, designed to buttress the legitimacy of the Tudor dynasty that followed Richard III and that Shakespeare lived under. But as an analysis of the psychology of tyranny, it's genius. Like Plato and Aristotle, Shakespeare saw this question not merely as political, but as wrapped up in the darker folds of the human soul, individual and collective.
The background of the drama is England's "War of the Roses", the civil war between two regional dynasties from which Richard emerged. And that's often key in tyrant narratives: it's when societies are already fractured into tribes, and divisions have become insurmountable, that tyrants tend to emerge, exploiting and fomenting chaos, to reign, however briefly, over the aftermath.
The war seems resolved when the victorious Edward, Richard's older brother, succeeds to the throne: "For here I hope begins our lasting joy!" And no one thinks the deformed, bitter sibling, of all people, would be a threat. It seems preposterous. But it's true. And at each unimaginable power grab by Richard — murdering one brother, killing the late king Edward's young heirs, killing his own wife, and then trying to marry his niece to secure the dynasty — Richard's peers keep telling themselves that it isn't really happening. Greenblatt notes: "The principal weapon Richard has is the very absurdity of his ambition. No one in his right mind would suspect that he seriously aspires to the throne."
But he has one key skill, Greenblatt notes, the ability to lie shamelessly: "'Why, I can smile and murder whiles I smile, And cry 'Content!' to that which grieves my heart, And wet my cheeks with artificial tears, And frame my face to all occasions.'" It's a skill that serves him well — and there seems no limit to the number of those eager to believe him. His older brother George, Duke of Clarence, told by thugs that Richard wants him dead, exclaims: "Oh no, he loves me, and he holds me dear. Go you to him from me." At which point the hired goons reply — "Ay, so we will" — and merrily murder him, taking him to Richard as a corpse. (In a good production, that can get a laugh.) One of Clarence's young sons, told that his own uncle hates him, declares, "I cannot think it." Others witness obvious depravity but can't quite call it out. One official receives clearly illegal orders from Richard, and follows them, asking no questions: "I will not reason what is meant hereby, Because I will be guiltless from the meaning."
Denial. Avoidance. Distraction. Willful ignorance. These are all essential to enabling a tyrant's rise. And keeping this pattern going is Richard's profound grasp of the power of shock. He does and says the unexpected and unthinkable in order to stun his opponents into a kind of dazed passivity. It's this capacity to keep you on your heels, to keep disorienting you with the unacceptable (which is then somehow accepted), that marks a tyrant's relentless drive. He does this by instinct. He craves chaos, lies, suspense, surprises — not because he's a genius, but because stability threatens his psyche. He cannot rest. He is not in control of himself. And whenever the dust settles, as it were, he has to disturb it again….
It continues but this suffices. Subscribe to the Weekly Dish to read the rest